Terms of Trade
Effective as at July 2021
Western Australia based Distribution Company
Please be aware that we are a Western Australia based distribution company and as such operate within the Australian Western Standard Time zone (AWST). If you are based outside of Western Australia, kindly familiarise yourself with any time differences and accommodate your communications and orders accordingly. All timeframes and opening hours stated below are in AWST. Rener Health Products cannot be held liable/are not responsible for any issues involving time zone differences.
Credit Terms
If we approve your application to open a credit account with us, you must pay the whole amount as shown on your invoice issued by us, on or before the due date. Note that direct deposits can take up to 48 hours to be received – please arrange payment to accommodate this time frame so as to prevent your account going to credit hold. Credit card payments made online at www.myrener.com.au are received immediately.
We may (at any time, without notice and without any liability to you) refuse credit to you and/or suspend or cancel your credit account with us for any reason whatsoever including (without limitation) because:
you fail to pay amounts owning to us when due;
you no longer satisfy the TGA practitioner requirements;
if you are a student who ceases to be enrolled in an accredited course, share your account with another person or advertise products;
your ABN expires or is invalid and is not replaced;
you have engaged in unlawful activity in connection with your business;
you fail to comply with any relevant retail policies or supplier requirements;
you have engaged in predatory pricing or similar anti-competitive activities;
you or your employees have published negative or derogatory remarks including on any social media medium;
the ownership or control of your business has changed; or your account has been inactive for 12 months.
a credit limit may be set on your account at any time at the discretion of Rener Health Products. This amount is generally based on payment history and is subject to review upon request
On your request, we will notify you by e-mail for our reasons for refusing you credit or suspending or cancelling your account.
Cash on Delivery (COD)
ALL non-credit account holders are allocated a COD type account, whereby payment MUST accompany all orders. We accept online or credit card payments. Orders may be held for 24 hours pending payment, after which if payment is not received it will be cancelled.
Payment Method
Online payment option is available for immediate allocation to your account! Log in to www.myrener.com.au and head to My Account, My Invoices to submit your payment details securely. Alternatively, our direct deposit details are: AUSTRALIAN MANUFACTURING COMPANY, BSB: 066 000, ACCOUNT: 11842333 – please use your invoice number or account name as a reference so that funds are correctly allocated. Please note that direct deposits can take up to 3-4 working days to be received and processed. Payments may also be made by cash, cheque, or credit card (MasterCard and Visa). At this stage we do not pass on any bank fees incurred by us in accepting payment via credit card. The amount stated in a certificate signed by us, our duly authorized representative or our solicitor as being due and payable by you to us is prima facie evidence that such amount is owing. Due dates are printed on the top right of each invoice and payment is required in full by this date to avoid your account automatically being placed on credit hold.
Payment with Order Discount
A 1.5% discount is applied to your invoice ship total when you pay at the time of placing your order or on collection of goods from our warehouse. This is subject to payment being made available upon first presentation and the account being within trading terms. Not applicable for COD type accounts that are not within trading terms. If you hold a credit account with us and would like this discount to apply to your online orders, please contact our Customer Service Team and we can update our system accordingly. This discount is not available with any other offer and Rener Health Products reserve the right to withdraw/amend this discount without notice.
Orders
Orders may be placed via our online ordering portal, MyRener (www.myrener.com.au), or by fax, telephone, email or via PharmX. For more information on PharmX, please see below, or contact our Customer Service Team.
Opening Hours
Our operating hours are from 8.30 am to 4.30pm Monday, Tuesday, Thursday and Friday; Wednesdays 9.30am to 4.30pm. All WA metro orders received by 10.30am should be delivered within 1-2 business days (except remote areas). Exceptional circumstances such as first week of month (order chaos), network problems (computer chaos), electrical power outs (no-computer chaos), ISP or telephone outages (communication chaos), or key personnel leave or illness (staff chaos) may impede on this schedule.
Warehouse Reception
Our Warehouse Reception area is open for you to collect your order till 4.00pm daily.
Collections
Orders submitted by 3pm on weekdays will be available for collection the next business day during regular opening hours. Orders submitted after 3pm on weekdays will be available for collection in two business days during regular opening hours.
**Orders placed on Fridays after 3pm or anytime over the weekend will be available for collection on Tuesday (or the next business day) during regular opening hours**.
Collection orders are required to be collected within 5 business days. Please be aware that we will be unable to offer further timeframe flexibility; kindly ensure you have completed orders with us in a manner that does not disrupt your business. After 5 business days, we will attempt to contact you for collection of your order, however we reserve the right to charge a cancellation fee per our Order Cancellation policy.
PharmX
We provide PharmX ordering for your convenience at a flat fee charged on a monthly basis. The PharmX Gateway provides an electronic process to order and receive invoices from Rener Health Products to customers who are connected to a POS provider. We encourage you to request further information regarding PharmX from our Customer Service Team as additional Terms and Conditions apply.
Wholesale and Recommended Retail Prices (RRPs)
We sell products to you at wholesale prices on the basis that you are a health professional or service/business within the health industry.
All RRPs are set directly by suppliers and we have no control over what businesses charge. If you become aware of any predatory pricing or other anti-competitive conduct by other businesses, we recommend that you contact the Australian Competition and Consumer Commission (see www.accc.gov.au for further information).
Price Changes
All prices are subject to change without notice. We recommend you check each invoice/MyRener website to ensure you are aware of correct prices. Price changes are also published in our monthly newsletter.
Expiry Dates
Kindly note our below short-dated (SD) policy below, which has been adjusted to accommodate for time delays in receiving stock to Western Australia:
Items classified as Supplements: Expiry date is within 2-6 months
Items classified as Food: Expiry date is within 1-3 months
All products Rener Health Products deem as short-dated are clearly noted on our online ordering website – if you have any queries, or would like to know what the exact expiry date is for a product, kindly contact our Customer Service Team prior to submitting your order. If you are in contact with one of our Customer Service Team Members with regards to your order, you will be requested to confirm you accept the stated expiry date. SD products are not eligible for return unless an error has occurred on behalf of Rener Health Products. Rener Health Products reserve the right to offer special discounts for short dated products at our discretion.
Acceptance of Orders
All orders sent will be deemed as accepted and correct unless we are notified within 5 working days of the date of invoice. We are under no obligation to accept cancellations, amendments or return of goods to an order which has been supplied correctly to you as per your order. We reserve the right to respond to specific circumstances at our discretion.
Returns
We understand the complexities and nature of ordering products for customers, patients and clients, and as such have provided this policy to further our commitment to providing a high level of service to all of our customers, however, kindly note that due to the volume of returns we experience, we have had to start charging a restocking fee:
All returns that consist of 3 or more SKUs/lines per invoice will incur a restocking fee of $3 per SKU/line. 10 SKUs/lines or more will only be accepted at management's discretion. Restocking fees are charged directly to your account and are payable accordingly.
All returns must be authorised by Rener Health Products. If a return is authorised by Rener Health Products, goods must be received back in the same condition as originally supplied and authorised. Please ensure you receive a tracking number when lodging a parcel with Australia Post; Rener Health Products are not liable for any returns not received physically by us.
Cancellation of Orders
A $20 incl. GST charge applies to cancelled orders that have yet to be dispatched; this charge covers restocking and handling costs. This charge is payable in accordance with your account terms.
Minimum Orders for Free Delivery, Freight Charges and Timing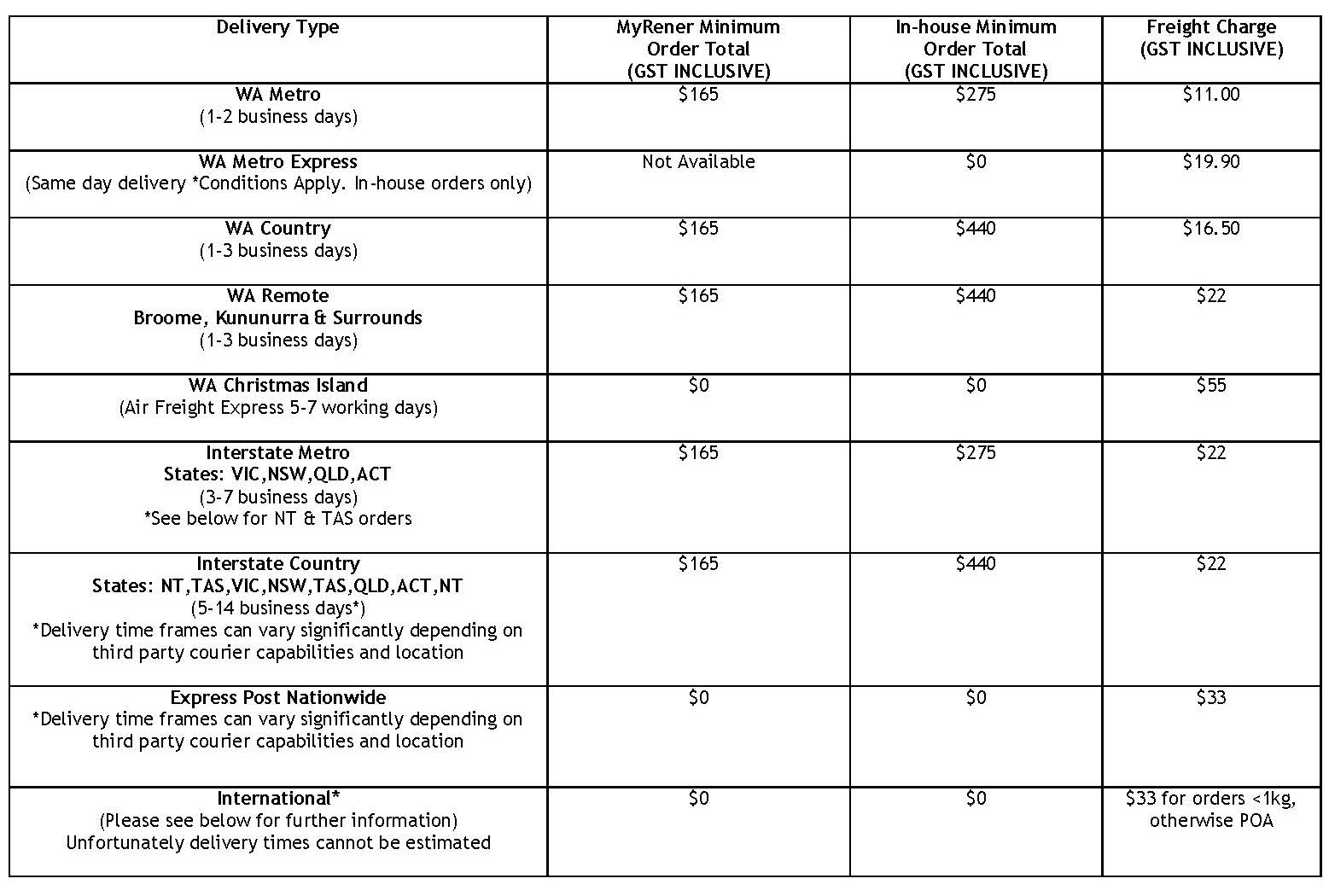 *Kindly note that bulk item orders may incur additional freight charges, however we will contact you to confirm if this is the case.*
**Please note that PO Boxes, RMB's, Locked Bags, Parcel Lockers, Parcel Collect and Express Post orders will be dispatched via Australia Post. Delivery times via Australia Post are variable and in accordance with Australia Post – if you have not received your order within a reasonable timeframe, please do not hesitate to contact us or raise a claim with Australia Post directly**
International Orders
International orders are required to be placed online on MyRener. We are unable to accept any international returns in exchange for credits or refunds under any circumstances. No refunds will be provided if your parcel is lost or damaged in transit, undergoes quarantine or product removal by customs, or goes missing once delivered. Please note that we are not permitted to send any product containing alcohol (ie: herbal extracts/homeopathic preparations) internationally.
International orders are made at your own risk. Please check the customs regulations in your country. The payment of customs duties and taxes are to be paid by the receiver. Refusal of payment may result in the parcel being sent back to us. We are unable to accept returns in exchange for credits or refunds under any circumstances.
Deliveries and Authority to Leave (ATL)
Please be aware that orders sent with 'special delivery details' are difficult to adhere to – please keep delivery instructions short and concise. If your delivery address is unattended at the time of delivery, a card will be placed in your letterbox with instructions to follow for the collection of your parcel. Should the courier not hear from you within a reasonable timeframe, your order will be returned back to Rener Health Products. In these cases, we will make every effort to contact you, however failing two attempts, your order will be returned to stock and the above returns policy charges will be applied to your account. Please note if you have given authority to leave (ATL), you accept full responsibility and risk for the parcel once the parcel has been delivered accordingly. Kindly note the same policy applies for all drop ship and patient online orders.
Unavailable Stock and Backorders for In-house Orders
Stocked items may be in short supply for reasons beyond our control. We will endeavor to advise you of the estimated time of arrival for any product that is out of stock. However, we are not liable or responsible to you in any way for any items being out of stock or unavailable at the time of order.
The following conditions apply to backorders:
This complementary backorder service is not available outside of Western Australia or online (see the self-managed backorders for online ordering with MyRener).
We will contact you via automated email once the backordered item is available for you to purchase.
Following contact, backorders are held for 48 hours before automatic cancellation.
All orders containing backordered items must total $75.00 plus GST or they are subject to regular freight charges.
Specials are available only while promotional stocks last. Specials will not roll over into the next month regardless of the item being on backorder.
We may remove backorders at our own discretion at any time and are not liable for any inconvenience caused.
Specials
At all times we will pass on specials (while promotional stock lasts) offered by our Suppliers and will notify you via our fax or email list of what specials are available. Please let us know if you are not receiving specials information. Note that cut off times apply.
Refrigerated/Temperature Sensitive Products
Refrigerated lines will be packed with complementary ice packs and most probiotic products are manufactured to standards that compensate for delivery times and temperature variances - please see MyRener for further information and Probiotic Viability Statements from our major suppliers. We do not recommend ordering refrigerated or temperature sensitive items and those such as chocolates, butters, balms, deodorants and oils in hot weather, however you may do so at your own risk. To safeguard your order, please refrain from ordering these products on Fridays or when the temperature is expected to exceed that which will keep your products viable. All orders received by our warehouse are processed as they are submitted and they are unable to hold orders for the next cool day. Please also note that we cannot be responsible for delays in delivery or non-attendance when a delivery has been attempted. Please note that we do not advise Australian north areas order these products in the warmer months. Whilst every attempt is made to ensure adequate packaging and delivery, we do NOT accept liability for product delivered warm – goods are ordered and dispatched at your risk. Alternatively, you may like to arrange to collect your order from our warehouse; please see 'Collections' above.
MYRENER DISCLAIMER - REFRIGERATED ITEMS: Please be aware this is a refrigerated item that will be packed with icepacks. If you would like your refrigerated items to also be packed in a Styrofoam esky, please add an esky to your cart (Code: ESKY) for $3.30 incl. GST. Unfortunately, as we use third party non-refrigerated couriers and our weather can be somewhat unpredictable, we cannot approve of any credits or returns associated with orders arriving warm/hot, even when an esky has been purchased. Thank you for your understanding.
Practitioner Only Products
Rener Health distributes products that are deemed 'Practitioner only'. These are only available to account holders defined as "Practitioners" in accordance with the Therapeutic Goods Act 1989.
State Supply Restrictions
In accordance with supplier imposed restrictions and in an attempt to reduce instances of damaged product, several ranges we stock are not available to all states within Australia. These restrictions are subject to change without notice and Rener Health Products cannot be held responsible for any issues arising from these restrictions. Our online ordering portal MyRener, www.myrener.com.au, will only display available ranges to your account once logged in.
Customer Advertising and Sales
Certain restrictions apply when advertising and selling health products online. If you advertise and sell online any health products that you purchase from us, you must ensure that your online advertisements and sales comply with all relevant laws and the requirements of your professional association's guidelines, the TGA and of the relevant product supplier. If you hold a Student Account, you must not advertise or sell any products to any third parties whatsoever.
Delays – Force Majeure
We are not responsible for any delay or failure of performance occasioned or caused by strikes, riots, fire, insurrection, embargoes, failure of carriers or suppliers, inability to obtain goods or transportation facilities, acts of God or of the public enemy, governmental tariffs and quotas, compliance with any law, regulation or other governmental or court order (whether valid or not), or any other cause beyond our control.
Sale of your Business or Change of Control
You must promptly notify us in writing if you have agreed to sell your business or (where you are a corporation) at least 50% of the beneficial interest or control in your business. If any sale or change in control occurs, you must pay to us (before settlement of the sale or change occurs) all amounts owing by you to us.
Privacy Policy
Our privacy policy is available to you as a separate document. Click here to view our privacy policy. Note that agreement with these Terms and Conditions of Trade automatically qualifies as acceptance of our privacy policy.
Security and Personal Property Securities Act 2009 (PPSA)
(Retention of title) Title to each good sold or supplied by us to you (Good) remains with us and does not pass to you until the good is paid for in full without any deduction, retention or set-off whatsoever.
(Transfer of possession) Despite any other provision, we may retain possession of any Good until any or every security interest respecting the good is (to our satisfaction) perfected by registration on the PPSA register.
(Recovery of possession) If you fail to pay for any Good by the due date for payment, you irrevocably authorise us to (as your agent and to the extent legally permitted) do anything reasonably necessary to re-take possession of the good including (without limitation) enter any premises at which we reasonably believe the good to be located.
(Assistance) You must do all things (including provide all details and data) that we require to facilitate, maintain or vary the registration of any security interest provided by you to us.
(Application of payments) If you make any payment to us, then we may apply the payment to satisfy any obligation that you owe to us (whether the obligation is unsecured, secured by security interest, or secured by purchase money security interest). We may apply the payment in any order or manner that we think fit, and we may amend or re-apply any application made.
(Exclusions and waivers) To the full extent permitted by law, the following apply to each and every security interest which you provide us: (a) PPSA sections 95, 121(4), 125, 130, 132(3)(d), 132(4) and 135 are excluded and contracted out of; (b) you waive all rights under the
PPSA to receive any notice from us (including the right to notice of a 'verification statement' under PPSA section 157); and (c) we need not give you any notice required under the PPSA.
Default
Overdue accounts are an unnecessary strain on our resources, impede our ability to maintain a suitable supply for everyone (patients included), and are a direct breach of our credit agreement. Overdue accounts are automatically put on a 'stop supply' – no further orders will be dispatched until payment has been received and cleared. Consistent late payment necessitates a permanent withdrawal of credit facility. Please adhere to our trading terms!
If any amount payable by you to us is not paid by the due date for payment, then:
you must (on demand) pay us interest on the outstanding amount calculated daily at the rate of 18% per annum from the date the amount became due and payable to the date the amount is paid in full; and
we may withhold dispatching any further orders to you until the amount is paid in full.
If you breach your obligations under these Terms and Conditions, you must immediately pay to us on demand all costs and expenses incurred by us in enforcing these Terms of Trade or as a direct result of your breach (including, without limitation, legal costs on a full indemnity basis and debt collection fees).
New & Existing Customers
Credit facility on all new accounts to be reviewed quarterly. Any account not achieving Pro rata $2,000 sales per annum, we reserve the right to require payment prior to goods being dispatched.
Agent
All acts and things which we may or must do under these Terms of Trade may be done by us or our nominated solicitor, agent, contractor or employee.
Limitation of Liability
To the extent permitted by law, our total liability for any claim under or in relation to these Terms of Trade or the supply of goods to you is limited to the price paid by you to us for the goods the subject of the claim
Notices
All notices that may or must be given under these Terms of Trade must be in writing and may be given by post, fax or e-mail. The notice must be sent to the address or number stated by the intended recipient in any document that refers to these Terms of Trade or as the intended recipient later notifies to the sender.
No Waiver
A failure to exercise or a delay in exercising any right, power or remedy under these Terms of Trade does not operate as a waiver. A single or partial exercise or waiver of the exercise of any right, power or remedy does not preclude any other or further exercise of that or any other right, power or remedy. A waiver is not valid or binding on the party granting that waiver unless made in writing.
Assignment
We may at any time assign our rights and interests or novate any of our rights and obligations under these Terms of Trade. You must not assign any of your rights or obligations under these Terms of Trade without our prior written consent, which consent may be refused or given in our absolute discretion.
Severability
If the whole or part of a clause in these Terms of Trade is or becomes illegal, unenforceable or invalid, then that clause or part is excluded from these Terms of Trade without affecting the remainder of these Terms of Trade.
Variation
We may vary these Terms of Trade from time to time. We may notify you of any variation of these Terms of trade by publishing the revised terms on our website or by notifying you that we have done so on an invoice, statement or other written communication. If you continue to deal with or place orders for goods with us after any such variation, you will be taken to have agreed to those terms as varied and to have taken the supply of those goods on those varied terms.
Governing Law
These Terms of Trade are to be construed in accordance with and governed by the laws of Western Australia.
Interpretation
In these Terms of Trade and in any document that refers to these Terms of Trade:
a reference to legislation includes any variation or re-enactment of it and a regulation or statutory instrument issued under it;
a reference to a party to these Terms includes the party's successors, permitted substitutes, permitted assigns and (if applicable) the party's legal personal representatives; and
a right or obligation of any two or more persons confers that right or imposes that obligation on each of them severally and on any two or more of them jointly.
**ADDITIONAL TERMS OF TRADE: ONLINE ORDERING – MYRENER**
Our online ordering service provides the convenience of ordering 24-7… anytime, anywhere! Sign up at www.myrener.com.au. Upon approval, you will be sent your username and password. Please ensure you read and agree to the below additional terms of trade specific to online orders. Note that our site uses the latest in website technology and requires an up to date operating system. For best results, please use Google Chrome. Rener Health Products do not take any responsibility for an inability to access our website at any time.
**IMPORTANT NOTE** when ordering a product on a +1 special, you MUST enter the +1 quantity for the discount to apply (ie: if ordering a 4+1 special, please add quantities of 5 into your cart). Please ensure all discounts have applied at checkout. If you have any queries, please do not hesitate to contact us to discuss prior to issuing your order.
a) MyWatchlist Management: Should any item be out of stock at the time of your online order, you may add the item/s to 'MyWatchlist' by clicking on the heart symbol. You will receive an automatic notification when the item/s are back in stock, at which point you may login and order as usual. Simply remove the product/s from MyWatchlist if you no longer wish to receive notifications. You may still place item/s on your MyWatchlist that are on a current special, however if stock does not arrive within the same promotional month, we cannot offer the special. **Note that MyWatchlist is no visible to our Customer Service Team Members – MyWatchlist is fully managed by you, the customer, as you log into online ordering. All items back in stock from 'MyWatchlist are subject to usual online ordering order minimums and freight charges and cannot be transferred to in-house orders**. Please see ''Backorders and MyWatchlist Explained' or contact our Customer Service Team for further information.
b) Trade Conditions: All regular Rener Health Products terms and conditions apply (as above).