Delivery Information
Please ensure all address and delivery details are clear and concise. All WA orders received by 10.30am should be delivered within a 24-48 hour period (except in extenuating circumstances or remote north locations).
If your delivery address is unattended at the time of delivery, our couriers/Australia Post will place a card in your letterbox with instructions to follow for the collection of your parcel. It is your responsibility to be in attendance upon attempted delivery as we are unable to re-route deliveries once they have left our warehouse. Please note if you request your parcel to be left 'without signature', you accept full responsibility and risk for the parcel once the parcel has been delivered.
Freight Charges
Orders under the prescribed freight minimum will incur the following charges: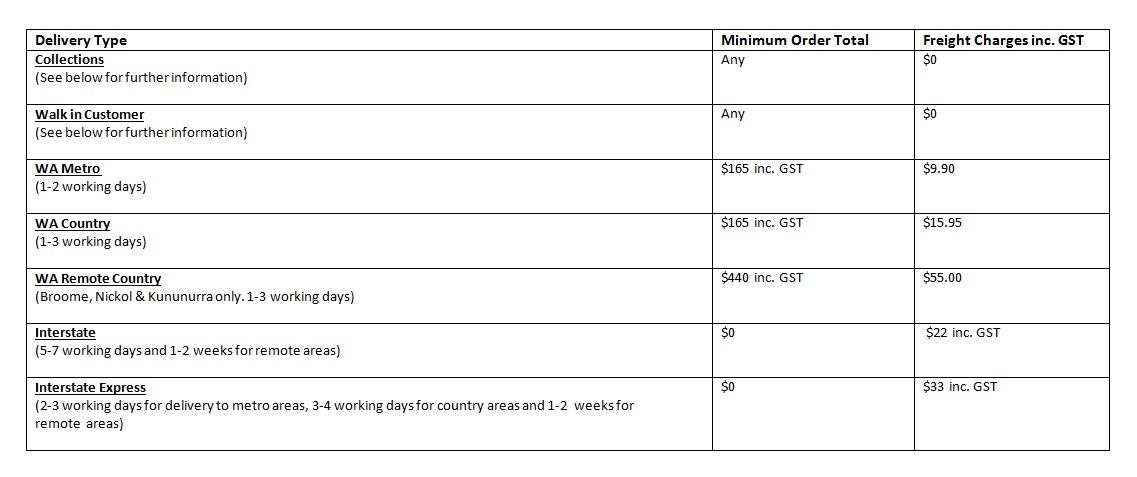 **Please note that PO Boxes, Locked Bags, Parcel Lockers and Parcel Collect addresses must be dispatched via Australia Post. Delivery times via Australia Post are variable and in accordance with Australia Post – unfortunately we are unable to advise timeframes, however if you have not received your order within a reasonable timeframe, please do not hesitate to contact us to track it for you**
Collections
Our Warehouse is open for you to collect your order as per our opening hours above. Please give us at least 2 hours' notice to have your order prepared. Final orders for collection need to be placed by 2.00pm.
Walk in Customers
Our warehouse is also open for you to come in and place your order online using our online facilities. One of our friendly customer service staff will be available to assist you and you can make yourself a tea/coffee and relax while your order is prepared. Please allow a maximum of half an hour for your order to be prepared once placed. All Walk in Customer orders must be issued to the warehouse by 3.30pm.